Eternal Con 2020 Information
This event has been cancelled.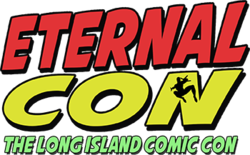 Eternal Con 2020
July 11-12, 2020
Cancelled
Nassau Veterans Memorial Coliseum
Uniondale, NY
Comic Convention
Eternal Con, The Long Island Comic Con, celebrates its 8th year offering a fun and educational experience for visitors of all ages. Dedicated to bringing fans a more intimate convention experience, Eternal Con is the place where you can get up close and personal with your favorite stars and comic book celebrities. We also offer a weekend full of educational seminars so not only do you have so much too look at, but you can learn from accomplished professionals working in their respected fields. Eternal Con is a family friendly and safe place for children of all ages.